At Aluminium Solution we also specialise in Frameless Glass & Stainless Steel Balustrading Solutions:
Frameless Glass Balustrades
No need to compromise safety for beauty with our balustrading solutions.
Stainless Steel Balustrades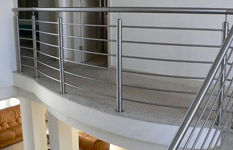 We manufacture and design Stainless Steel Balustrades to any specification.
Glass and Stainless Steel Balustrades
We also offer a combination for both Stainless Steel and Glass Balustrades.
At Aluminium Solution, we offer the latest in modern frameless glass balustrading for balconies, staircases, pools and patios.
Many of the popular options contain no framework and no uprights, maximising on the clear view of and sheer magic of glass. This is the ideal solution for staircases or spaces where light is limited, as it creates the illusion of modern airiness and space through its transparency and appearance of suspended glass.
We also offer Stainless Steel Balustrade systems that comply with SANS while accommodating the most elegant of designs.